The Walt Disney Company (DIS) reported its F2018 third quarter earnings this week. The stock is lower on news of Disney's top and bottom line misses. However, the appeal with Disney lies in the streaming possibilities that will come once Disney's deal to acquire Fox's (FOX) assets closes. After shares have been range-bound for years, the P/E has continually compressed. Once these streaming options develop, market sentiment will turn. I have a price target of $150 for Disney by end of 2019.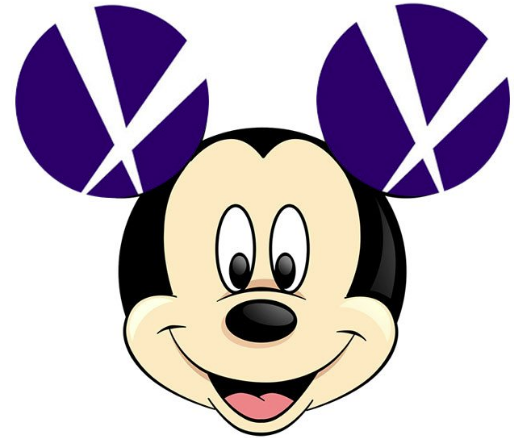 Source: Cartoon Brew
#1 Earnings Have Grown Despite The Broadcast Business Struggles
The main drag on Disney from the market's perspective, is the continued decline in popularity of traditional cable television. This point does have some merit, as the broadcasting business, which is centered around ESPN networks, is the largest revenue contributor to the business (roughly 40%). ESPN's subscriber count has dwindled year after year.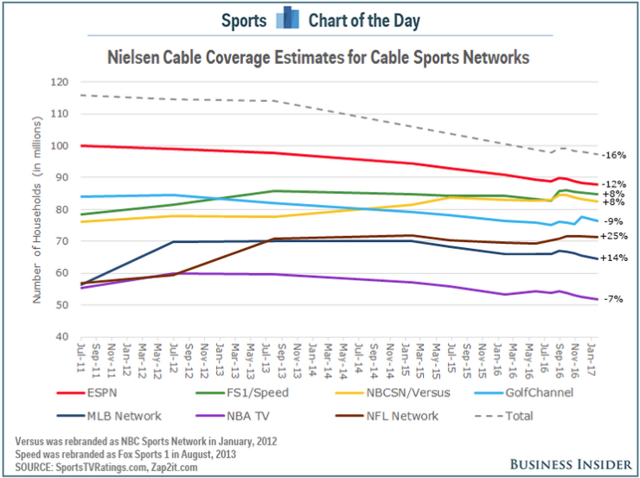 Source: Business Insider
Per Disney's 2017 annual report, the ESPN subscriber count is currently at 88 million subscribers (will be lower once Disney discloses an updated subscriber count). But because of the strength of Disney's other segments (mainly the film studios and theme parks - which have grown to just under equal weight to the broadcasting segment), earnings have continued to increase for Disney over this time. This is despite the shrinkage in broadcasting.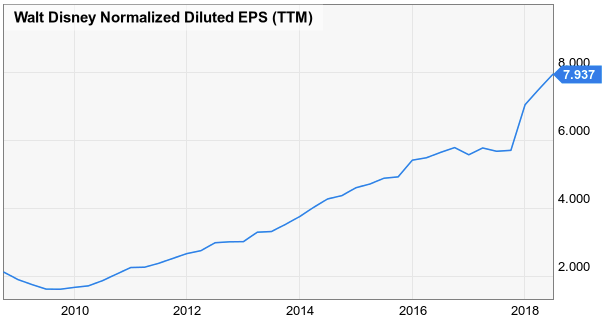 Source: Ycharts
In fact, since the recession, Disney's earnings per share have almost quadrupled from less than $2 per share, to more than $7 per share.
#2 The Stock Hasn't Followed Earnings
Over this same time period, the stock's earnings multiple and FCF yield have not properly reflected the earnings growth of Disney.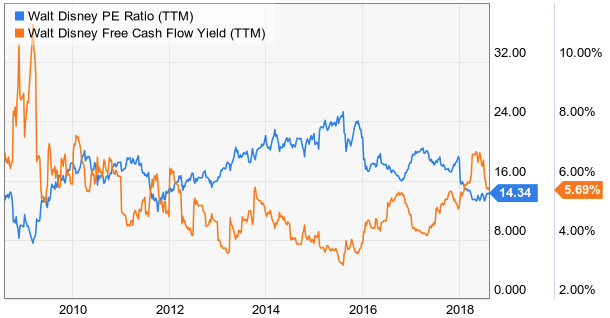 Source: Ycharts
Despite earnings growth of more than 13% per annum over the past five years (remember that this growth is despite the struggles of ESPN), the stock is trading at an earnings multiple in the mid-teens. Free cash flow yields are just under 6%, and are the highest since 2012, more than six years ago.
The market is treating Disney like the entire business is struggling, but that couldn't be further from the truth.
#3 The Film Studios And Theme Parks Are Killing It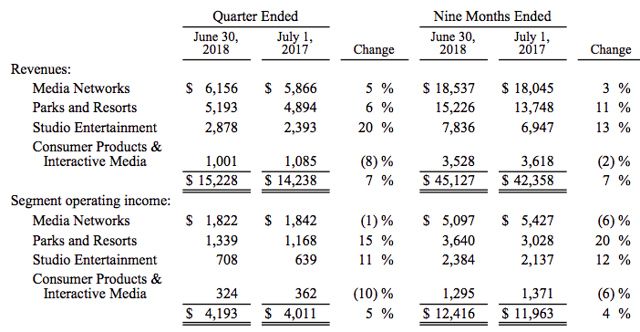 Source: The Walt Disney Company
Through nine months of fiscal year 2018, revenues and income for both its parks/resorts and studio segments are up double digits. These two growth drivers make up just under half of Disney's total revenues. The studios continue to drive hits at the box office such as The Incredibles 2, and Avengers Infinity War. The parks continue to remain jam-packed, and will see continued expansion as Star Wars World continues construction for a late 2019 opening.
#4 The Fox Deal Augments Disney's Growth Engine
I have previously discussed Disney's intellectual property and entertainment business as its true growth engine. Content is created, and distributed via its media networks. It also gives new reasons for consumers to visit its parks, and sail on its ships. It gives new material for consumer products. It's an ecosystem that loops different content, to achieve similar results and Disney is good at it. That is why the Fox Deal is so exciting.
The Simpsons, Avatar, X-Men are just examples of franchises that Disney will be able to breathe new life into. I fully expect the X-Men franchise to be re-done by Disney. The Avatar franchise will see four sequels, which will probably lay the groundwork for a parks project down the road.
#5 Disney Will Be A Major Player In Streaming By 2020
Disney's movement into the streaming space has been a cumulative effort. While the Fox deal is perhaps the missing puzzle piece, the efforts go further back. Disney has built a majority stake in back-end streaming technology company BAMTech over the past two years. BAMTech developed the streaming platform for various entities such as HBO's HBO Now service.
This has prepped the company to smoothly enter the streaming space. It started with Disney's original 30% stake in Hulu. This stake will rise to 60%, and controlling interest once the Fox deal closes, as Fox currently owns a 30% equity. This is very important because Hulu is currently a strong platform with approximately 20 million US subscribers, and a live television package aimed at cord-cutting consumers.
The big picture however, is that it allows Disney to separate its content so that consumers can get what they want without overcrowding the application. Disney is planning to launch its own Disney-branded streaming service late next year, which would include classic titles, as well as original content centered around key franchises such as Star Wars. Having Hulu would offer a place for Disney to offer some more adult content such as The Simpsons, Modern Family, etc.
This is all in addition to ESPN plus which just recently launched, and is still in its infancy. ESPN plus offers a streaming option for sports fans that include college football, combat sports, and more. Between all three services, Disney is bringing its entire vast content portfolio to the digital space. This will be Disney's long-term answer for how it will supplement a broadcasting segment that has macro trends working against it.
Unfortunately, Fox's regional sports networks are being sold off as a contingency to the deal established by regulators. The proceeds from the sale will help Disney financially realign itself after the deal. The sale price won't be known until a deal is struck, but it has been estimated that the assets are worth as much as $22 billion.
The Road To $150
There is still a lot to play out, but the market really has underestimated Disney's business model to date. The multi-pronged business of Disney with so much yet to be announced, makes predicting the future impossible. But I think it is powerful to illustrate how even a conservative scenario can really show how much upside there is still in Disney's stock.
This is just a "back of the napkin" calculation, with very conservative numbers. Disney's earnings over the past 12 months are approximately $12B. Fox's filmed movie studio generated just under $1B in 2017. If we combine these two, we get a combined earnings pile of $13B.
Remember, this doesn't include a host of assets that Disney will also see. None of the television entertainment earnings are included from assets such as The Simpsons, Modern Family, FX, or National Geographic. I wanted to keep this very conservative.
Disney has grown its net income over the past five years at a CAGR of just under 10%. If we apply this growth to Disney's earnings pile, we would be sitting at approximately $14.3B of earnings this time next year. Now Disney is funding around half of the deal with equity, which means after the deal, Disney's share count will be approximately 1.853B shares.
Disney's EPS based on these numbers would be approximately $7.71 per share entering the fall of 2019. By the end of 2019, Disney will be fleshing out its vision of streaming services with its Disney-branded offering. While it likely isn't realistic to expect Disney to approach the same earnings multiple as Netflix (NFLX), it is highly probable that the market will revalue the stock based on streaming fueled growth expectations. Even if we take a modest 20X earnings multiple on this, we are at more than $154 per share.
I will say it again. I strongly went on the conservative end with this thought process. The estimate doesn't include all of the assets from the Fox deal, and we still have no idea what Disney's pricing structure or content format will be for the streaming services. Obviously nothing is guaranteed, but I feel like I have set the bar pretty low here.
Wrapping Up
There is so much that has yet to play out, that it is impossible to have a firm grasp on what the end product from Disney will look like, and the numbers it will create. The obvious takeaway however, is that things are moving in an upward direction. Disney has as strong a track record as any player in the entertainment world when it comes to converting content into cash. The Fox deal just creates an embarrassment of riches for Disney as it gears up to join the streaming battle.
There is a lot that could go right or wrong, as execution is always a hurdle when you are talking about deals this big. However, as my work through the rough numbers indicates, the upside as a dominant content player combined with a compressed earnings multiple, make Disney a stock poised to take off as excitement for the future builds over the next 18 months.
Disclosure: I am/we are long DIS.
I wrote this article myself, and it expresses my own opinions. I am not receiving compensation for it (other than from Seeking Alpha). I have no business relationship with any company whose stock is mentioned in this article.